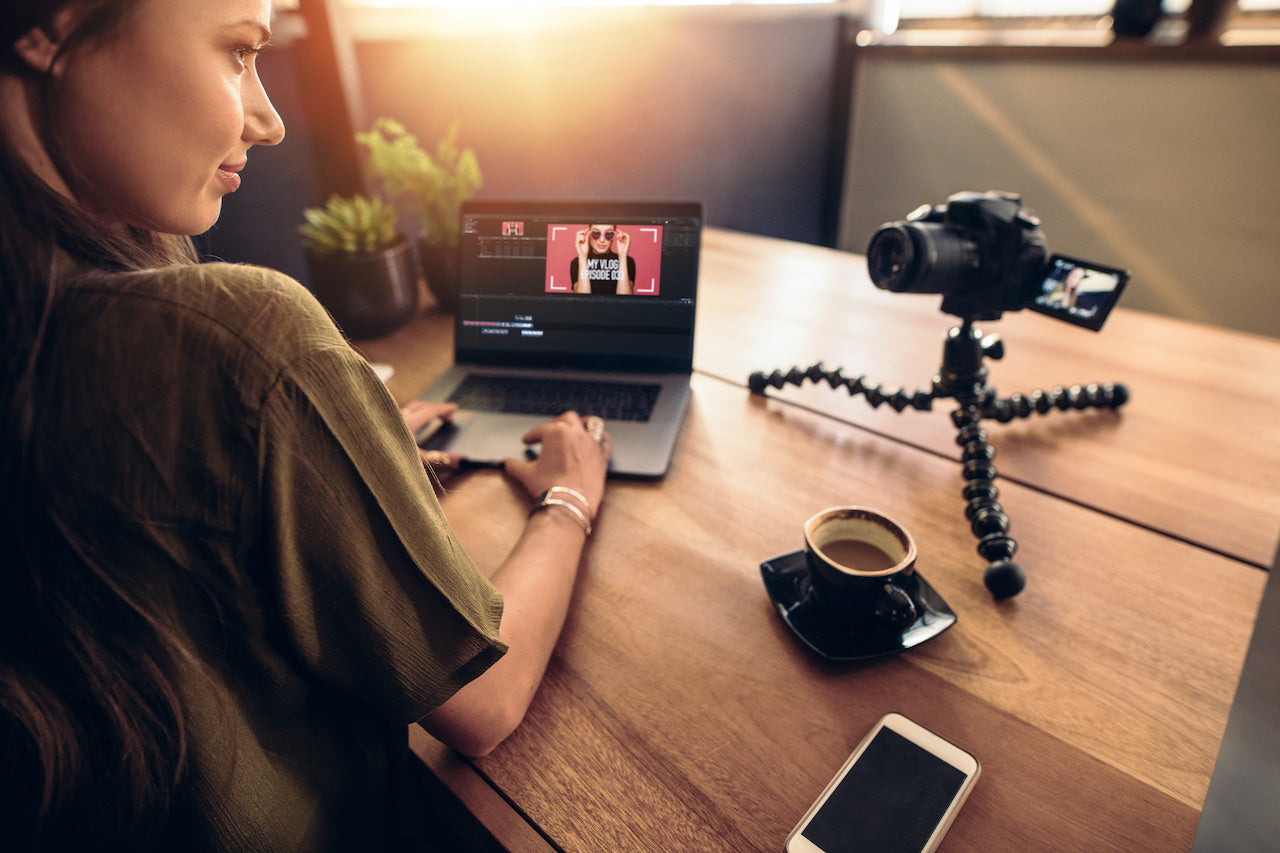 Best Content Creation Tools for Video
Table of Contents
Video content creation tools are the backbone of every social media content creator looking to elevate their media. Native platform editing toolkits are often limited, can be unreliable, and have oversaturated use. To tell your story and engage with a wider audience, you need content creation tools to make your videos stand out.
Today, we're taking a look at some of the best content creation tools for video to keep in your arsenal. From planning stages through posting your media, these content creator tools will help you every step of the way.
Video Content Creation Tools You Need
Ask any top social media content creator about their process and they'll have a list of preferred content creation tools they use on a regular basis. These tools will boost your video content performance, making them more engaging than simpler videos all using the same few native platform editing options.
Whether you're an individual social media content creator, a startup, a business owner, or an established brand looking to jump into social media storytelling, check out these content creation tools to streamline your production process:
PLANOLY video planner

Camtasia screen recorder and editor

Pexels and Unsplash royalty-free media sources

Placeit product mockups with pictures and video

Canva photo and video creation tools

Quik by GoPro for choosing video sections to highlight

MixVoice to add voice over to video content

MixCaptions caption app for engaging, accessible video for everyone

Social media video scheduling tool and universal inbox
PLANOLY Video Planner
Content creators need to start with a plan. While it may look like the top social media creators are producing videos on the fly, the most successful ones have content creation tools in place for ideation and planning like using the PLANOLY video planner. For larger brands or collaborative teams, tools like this also streamline communication and avoid details slipping through the cracks.
Camtasia
Video content creation tools like Camtasia make it easy to record video right from your screen. Available for Windows and Mac, their screen recorder and video editor tool let content creators record their screens, choose from templates, and add visual effects. It's a great tool for creators producing how-to videos, instructional or educational content, video DIY guides, and more.
Pro Tip: Use MixCaptions to add captions to videos recorded with Camtasia for professional-level media. The ability to edit, style, and decide where captions should be shown greatly expands on their limited closed caption options. This is an example of pairing content creation tools to maximize production quality and video performance.
Pexels and Unsplash
Every collection of the best content creator tools needs to have sources for imagery and video. Many social media content creators record their own, but still need to supplement specific visuals periodically. Other creators may make excellent use of stock footage for advertising campaigns, bonus content, or use cases for their products and services. Sources like Pexels and Unsplash provide royalty-free images and video you can integrate into your content at little-to-no cost (depending on the asset).
Can't find what you need on those two sites? You can also check out aggregate royalty-free image and video sites like thestocks.im for expanded options.
PlaceIt Product Mockups
PlaceIt has a special place on our list of content creator tools, especially for business owners and brands looking to make top-quality media for their products. This service offers a wide variety of lifestyle imagery and videos that can feature your products, giving you an instant "photo and video shoot" without the high costs of hiring models, videographers, and more. 
The aim of their tools is to create high-quality branding and marketing tools anyone can use regardless of technical or artistic skills. Using this service to create your media is the perfect preparation for adding captions or video voice over in your next step.
Canva
Canva is a name often associated with content creation tools because it offers so many easy-to-use methods for creating your video without high production costs. Offering free and premium options, Canva lets you create videos, slideshows, or other forms of media and export them in common aspect ratios. It's a step along the way to adding voice over and captions to video content and streamlines the process for faster turnaround at lower costs.
PicPlayPost
Putting powerful video editing in the palm of your hand, PicPlayPost is a video editing app with a full range of editing capabilities. Create up to 30-minute high definition videos from photos, videos, gifs, and more. This video editing app is perfect for content creators wanting to export video in popular ratios for TikTok, Instagram, and YouTube, streamlining the editing process and keeping you from having to start over with media you want to share across multiple platforms. 
As a bonus, PicPlayPost also lets you create live wallpapers, slideshows that tell your story, as well as picture and video collages that engage your audience. This app is available for iOS and on Google Play.
MixVoice Text to Speech Voice Over App
Using MixVoice text to speech technology to add voice over to video elevates your storytelling with ease. It eliminates the need to capture the perfect vocal take, hire voice actors, or use your own voice. Offering more than 85 lifelike voices plus supporting over 20 languages and 60 accents, this powerful voice over app sets your video content apart from the ones using limited native editing tools on platforms like TikTok and Instagram. Saving files in the app lets you work on multiple projects at a time, a huge need for content creators. You can even select from different emotions and even adjust the speech rate to get your desired effect.
The MixVoice TTS voice over app is available for iOS and for Macs, letting you work on your preferred device rather than be limited to a phone screen.
Bonus: Check out the newest MixVoice feature, allowing you to add voice over to photos for up to 90 seconds!
MixCaptions App for Captions and Subtitles
The best content creation tools for video in your arsenal should include the captions app MixCaptions.
MixCaptions' auto-captioning capabilities give you accurate captions from the start and require less adjusting to tell your story the way you want. Furthermore, MixCaptions also gives you direct control over your caption text, styling your captions, and determining when and where you'd like them to appear on the video. There's even a Subtitle Translator tool to help you reach a global audience, offering automatic translation of captions created on the app into 7 popular languages.
Beyond adding captions to improve video performance on TikTok and Instagram, MixCaptions also proves its value over other content creation tools by letting you create an SRT file for captions to upload to YouTube. This feature streamlines your process for publishing content across various social media platforms, focusing on reach as well as the ability to more easily monetize content via platforms like YouTube Shorts.
MixCaptions is available for iOS and Android devices as well as for Macs.
Social Media Scheduler
Rounding out your arsenal of the best content creation tools for video is a social media scheduler. Efficient content creator tools for scheduling like Hootsuite, Buffer, and Later let you connect your socials in one easy-to-manage space and push out your media on your schedule. These tools also often provide monitoring to keep track of your media performance as well as universal inboxes to make responding to comments easy and efficient.
From ideation to publishing, it's important that you choose the best content creation tools for video to support your production pipeline. Efficiency, cost, and ease-of-use play an important part in scaling production and streamlining the process. Each of these content creator tools offers particular benefits, so select the ones that fit your needs and see how it improves your workflow. Take your media to the next level and stand out from the noise for all the right reasons.