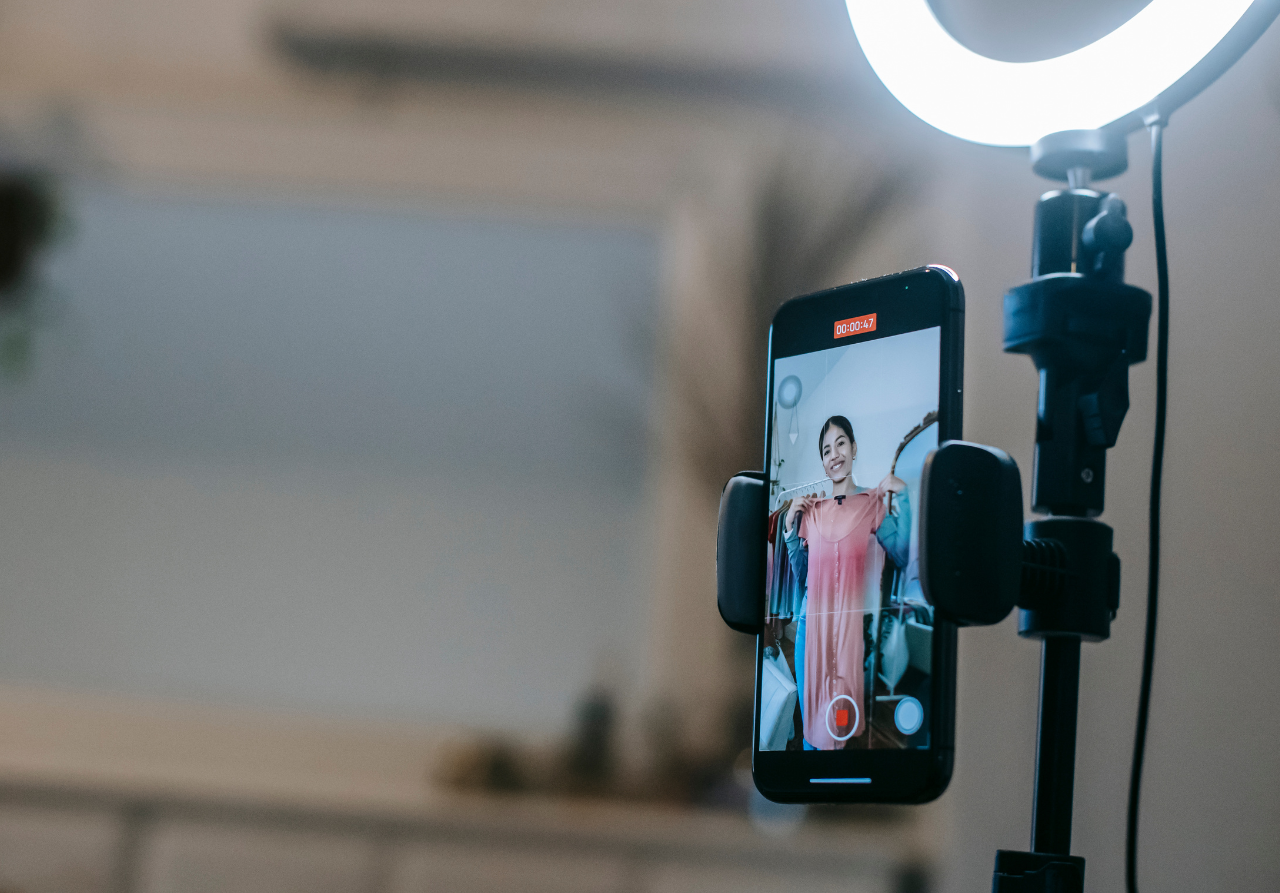 Choosing the Best Lighting for Video Recording
Table of Contents
With billions of monthly users across different social media platforms, there's an audience consuming media at all times of every day. Reaching these viewers means knowing how to create high-quality video content to stand out from the crowd. One of the most effective ways to do this is by choosing the best lighting for recording videos and integrating it into your setup.
This guide discusses why lighting is important, considerations to get the best lighting for content creators, and different types of lighting creators are using to produce high-quality content. Learn all about choosing the best lighting for video recording and start elevating your content production.
Why Video Lighting Is Important
Video content is all about visuals, so it's no surprise that choosing the best lighting for video recording is a necessity for content creators. The lighting for your video can make or break overall media performance.
The best lighting for content creators will:
Enhance video mood and tone:

The best lighting for video recording directly impacts the overall mood and tone of the content. Lighting creates compelling visuals that engage viewers and keeps their attention. It's also crucial as part of your overall storytelling to support your narrative.

Increase viewer engagement:

Correct lighting for video content will increase viewer engagement by producing the most visually dynamic imagery. Shadows and highlights draw in the viewer's eye, making them want to watch more of your video. It can turn a boring video into a more cinematic experience, grabbing and maintaining viewer engagement.

Show professionalism and credibility:

Having the best lighting for video recording makes your media stand out as professional against a sea of amateur content creators. There are countless hours of new media published across social media platforms each day. Creating and publishing high-quality content immediately sets you apart from the rest and is most likely to increase overall performance via engagement, longer average watch times, and new followers.

Reduce production costs and time:

Investing in the best studio lighting for video content is an upfront expense that will save you money and time in the long term. Proper video lighting cuts down on post-production editing to balance light levels, remove imperfections, and color correct. This streamlined editing process also lowers overall production cost with fewer edits being needed.
The best lighting for video recording will vary depending on your type of content and storytelling, but rest assured it will help the creation process from beginning to end. 
Pro Creator Tip: Video content performance relies heavily on visual and audio quality. Make sure you're choosing the best microphones for YouTube and other platforms as well as following voice over tips when recording audio for your content.
How to Get the Best Lighting for Recording Videos
Lighting tips at a glance: Choose your filming location, know your lighting style, balance color temperature, use 3-point lighting setups, be mindful of avoiding glare.
When you're producing content on a regular basis, you need to know how to get the best lighting for recording videos in order to streamline the process, saving you time and money. Better lighting makes a better video.
Some tips for getting the best lighting for recording videos include:
Choose your filming location:

Knowing where you'll be filming will help you determine the best lighting for video recording. Are you outdoors working with natural lighting? Are there windows? Overhead lighting to avoid? If you primarily film at home, setting up the best studio lighting for video content will prevent needing to fully readjust your equipment often. If you're filming on the go, understanding the principles of good video lighting will help you adapt quickly to any surroundings.

Work with natural lighting, not against it:

When used properly, natural lighting can provide a lot of benefits to your video quality. It's important to recognize when natural lighting is working for you versus against you. For natural light, filming during the morning or late afternoon is often best because the light is softer.

Know your lighting style:

What kind of video content are you making and what's your storytelling style? The best lighting for video recording will depend on how you want the viewer to feel. Creating shadows and depth gives a more cinematic feel to your media while soft light is less moody and perfect for funny, educational, or informational videos.

Avoid too much lighting:

Lighting your subjects too much can bring down the quality of your video. It can also lead to issues with your camera trying to constantly adjust white balance if the lights are producing multiple color temperatures.

Consider color temperature:

To get the best lighting for video recording, your color temperature should match the surroundings. Content creator tools like ring lights may offer different settings for warm and cool lighting, so be sure to match it to the surroundings and other lighting being used as best as possible. The more you balance color temperature during filming, the less color correcting you have to do during post-production editing.

Use 3-point lighting setups:

Using a 3-point lighting setup will give you the best lighting for recording videos. These lights are a key light, a fill light and backlight. Key lights are the primary light, positioned at a 45-degree angle from the speaker to the left or right of the camera. Fill lights help get rid of shadows cast by the key light and are placed on the opposite side. Backlights separate the subject from the background, creating depth in your video.

Look for glare:

One of the most overlooked factors to get the best lighting for video recording is avoiding glare. It can sneak into your video in the smallest of details such as someone wearing glasses. UV-coated or anti-glare glasses can be used to avoid this and keep your video from looking amateur. Also consider reflective surfaces that may be bouncing off light in your video, causing a glare on the camera lens.
Types of Best Lighting for Video Recording
You know why lighting is important and factors to consider in your setup, so now it's time to choose the right equipment to give you the best lighting for video recording. Social media content creators use many different types of lighting to create videos. The right kind of lighting equipment for you will depend on your style of storytelling, which platform or platforms you use most, and how you film your media.
Some of the most popular and best studio lighting for video content are:
Ring lights

LED light panel

Softbox lights

Umbrella lights
1. Ring Lights
Ring lights are often the go-to choice as the best lighting for video recording. It's ideal for those shooting solo and wanting good light distribution for vlogs, beauty content, travel content, and more. These kinds of lights are often on a stand and adjusted to the proper height to light the subject properly. Ring lights typically have warm and cool settings, letting you adjust to your surroundings and get the best balance of color temperature.
Using a ring light is an easy solution for how to get better quality on Tiktok, Instagram Reels, and other platforms without needing an enormous lighting setup. A simple ring light may be all you need, depending on where you're filming and what kind of content you're producing.
Popular ring lights include the NEEWER RL-18 18 Inch LED Ring Light Kit and the Lume Cube Cordless 18 Inch Ring Light. 
2. LED Light Panel
LED lighting is another option for the best studio lighting for video content as it is easily adjusted to different color temperatures and doesn't produce as much heat as some lighting equipment. They're also often cost-efficient for creators looking for the best studio lighting for videos while on a budget. Most LED light panels are square or rectangular and mounted on cameras or stands.
These kinds of lights are ideal for vloggers, short form content such as TikTok videos and YouTube Shorts, or live streaming. Many LED panel lights come with remote controls allowing you to adjust settings without having to move out of frame. This is especially helpful for content creators doing their own solo setup. If you're using LED light panels. It's best to have a two- or three-point setup just like with other lighting options.
Popular LED light panels for video creators are the NEEWER 2 Pack Bi Color 660 LED Video Light and Stand Kit and the Raleno LED Video Soft Light Panel with LCD Display. 
3. Softbox Lights
Some of the best lighting for video recording comes from softbox lights. This lighting equipment uses diffusion panels to make the light look softer and less artificial. It's an ideal alternative to natural lighting without being too harsh and creating unwanted shadows. Softbox lights give creators the ability to light an exact spot, making highlighting subjects in a video much easier.
These kinds of lights come in a wide variety of sizes, shapes, and price points. They're a staple for YouTube content creators, vloggers, TikTok creators, and more.
Popular softbox lights for content creators include Fovitec 3-Point Classic Fluorescent Lighting Kit (with Boom Arm and Bag) and the StudioFX 2400 Watt Large Softbox Continuous Photo Lighting Kit.
4. Umbrella Lights
Perfect for efficiently lighting an entire scene, umbrella lights are some of the best lighting for video recording creators will love using. Umbrella lights are used in two primary ways: reflective umbrella lighting and light diffusion by shooting light through the umbrella.
While often paired with softbox lights, umbrella lights can be used on their own by creators looking to control light levels over a wider area. This is ideal for creators wanting to illuminate a wider shot for context or for a scene with more than one subject. They can also use umbrella lights to add extra light on a particular subject as needed.
Popular umbrella lights include the EMART Umbrella Photography Lighting Kit with 700W CFL 5500K Bulbs and the LINCO 600W Photography/Video Continuous Lighting Kit.
Choosing the best lighting for video recording varies from creator to creator. The type of content you make and your style of storytelling will heavily influence the best video lighting options for you. Whether you're working alongside natural lighting or solely using equipment, the lighting of your video will have an undeniable impact on the overall performance of your media. Be sure to choose what's right for you and become acutely familiar with the best ways to light your content to streamline the process from beginning to end.