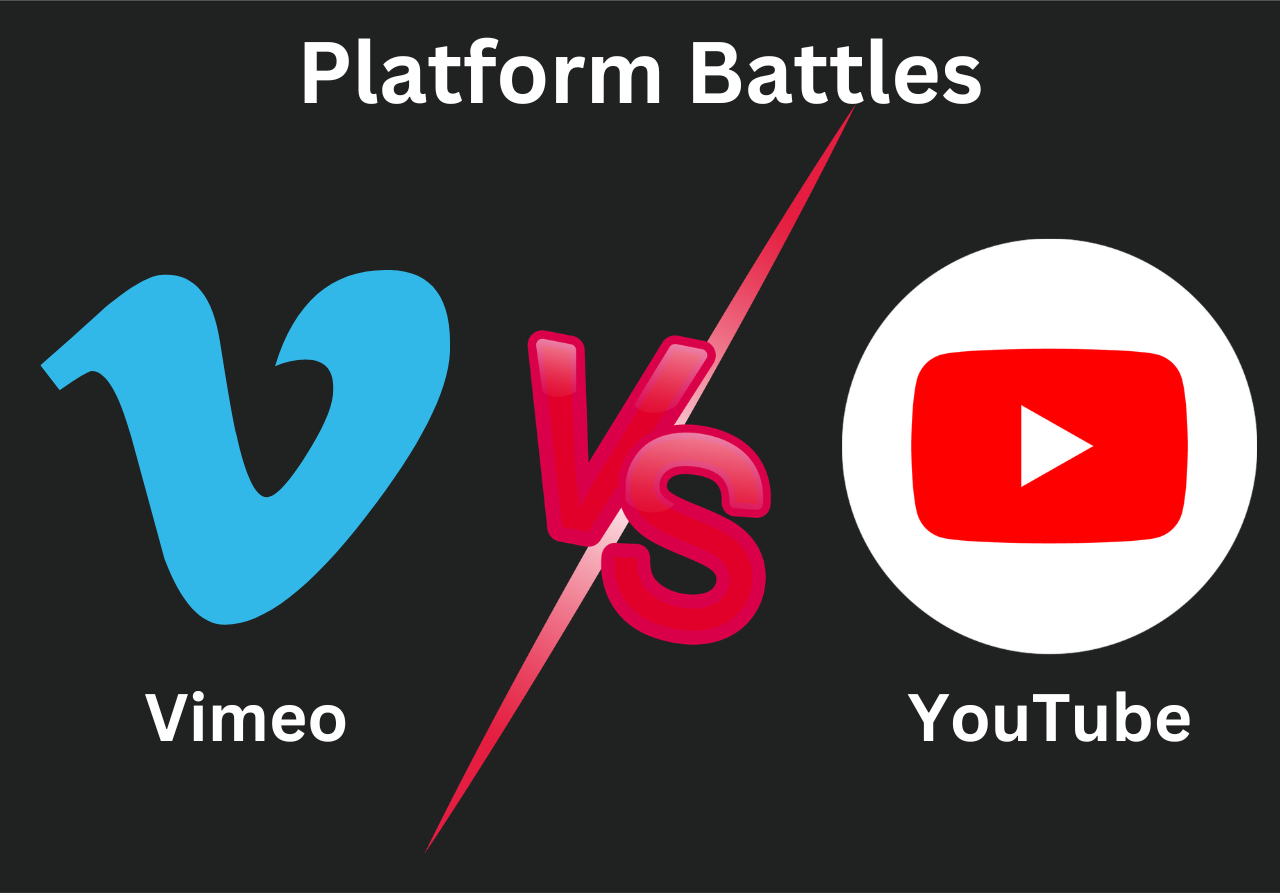 Platform Battles: Vimeo vs YouTube
Video sharing platforms are some of the most important tools for businesses, content creators, and those looking to get their media seen by a broader audience. Two of the largest and most popular video sharing platforms are YouTube and Vimeo. At first glance, comparing YouTube vs Vimeo shows they both share a foundation in long form content, but a closer look reveals their many differences.
In this platform battle, we're sizing up Vimeo vs YouTube in a showdown for the ultimate video hosting site. Which is right for your content goals? See what each offers and how to use them most effectively for your media.
Uses for Vimeo vs YouTube
A high-level glance at Vimeo vs YouTube makes them feel almost interchangeable. They're both video sharing platforms where content creators, businesses, and others can upload media to share with others. Each allows viewers to leave comments on media they want to engage with, and offer analytics for creators to measure the performance of their video content.
A closer inspection of YouTube vs Vimeo shows a definitive difference between the two in how they're used, the types of communities they often engage, and creator tools for editing and monitoring content.
Vimeo Uses
More polished, refined content with the intent of quality over quantity

Smaller user base, but reaches an engaged niche community

Popular choice for businesses seeking to highlight their brand and reach other professionals
One of the first surprising facts for many content creators comparing Vimeo vs YouTube is that Vimeo actually existed first. In fact, the long-time video sharing platform was launched almost five months before YouTube stepped onto the scene.
Where YouTube is frequently the first video platform people think about based on its user volume, Vimeo has a healthy and engaged audience of 260 million active users1. Content creators and businesses on this platform tend to be more focused on quality, rather than quantity when it comes to media.
Additionally, Vimeo offers more video quality settings to support clearer media (and audio) on their platform and in other places. Creators can even set default video quality settings for embedded video if their settings allow others to embed it places. It's a feature that draws a lot of attention for selling video content on the platform as standalone products.
YouTube Uses
Easier monetization options for many content creators

Larger global user base, allowing creators to reach a wider audience

Offers short form content platform (

YouTube Shorts

)

Considered to be the "second largest search engine in the world"
With billions of monthly active users2, YouTube is often referred to as the second-largest search engine in the world. Owned by Google, this video sharing platform offers content creators an easy path to improve searchability and discoverability. YouTube videos set to public are indexed by Google, whereas Vimeo creators need to opt into SEO indexability before they show up in organic search results.
A comparison of YouTube vs Vimeo monetization also shows that content creators publishing media to YouTube have easier, more accessible options for making money. Not only can long form content be monetized more easily, but the launch of YouTube Shorts, its short form content segment, has given creators even more opportunities to receive income from their work.
With both long form and short form support, YouTube content creators are using the platform for more storytelling and sharing as compared to the business-driven goals often associated with Vimeo.
Comparing Features of Vimeo vs YouTube
Existing since 2004 and 2005, respectively, a comparison between Vimeo vs YouTube shows two platforms have many similarities developed over the years. The differences in how they support each of these features are what drives content creators to use each platform differently. 
📹 Video Length
Vimeo: Maximum video length determined by your plan's weekly data upload allowance. Vimeo Create videos have a current maximum of 60 minutes.
YouTube: Up to 15 minutes for unverified accounts. Up to 12 hours for verified accounts.
One of the first differences content creators see comparing Vimeo vs YouTube is the maximum video length allowance.
Vimeo users will see that there is no technical limit to the length of their video upload. Instead, the maximum duration is determined by the weekly data upload allowance on your plan. At the time of this article's publishing, free Vimeo Basic accounts are able to upload up to 500MB/week (limited to 10 uploads every 24 hours). This extends incrementally throughout the available plans up to the Vimeo Premium account, which allows for any upload amount with a lifetime limit of 7TB.
A look at YouTube vs Vimeo shows that YouTube has made changes to its maximum video length allowance in recent years. Originally, there was no formal limit on video length for verified accounts. This led to the longest YouTube video on record being uploaded in 2011 at a duration of 596.5 hours (almost 25 days). The platform's current limits have been adjusted to up to 15 minutes for unverified accounts and 12 hours for verified accounts. The YouTube account verification process is simple and outlined by the platform in this guide.
🎞 Video Resolution
Vimeo: Supports standard resolutions up to 8K, HDR, and Dolby Vision media.
YouTube: Supports all standard resolutions up to 8K and HDR video.
The video resolution capabilities of Vimeo vs YouTube show that they both support up to 8K video. Vimeo supports up to 8K video uploads plus HDR and Dolby Vision media while YouTube allows uploads of 8K and HDR but does not support Dolby Vision at this time. Most devices at this time aren't capable of playing video in 8K anyway, so neither has any clear advantage.
Additionally, social media content creators publishing on YouTube are often more likely to be posting vlog-style long form content versus high-quality videos frequently sold as products on Vimeo by businesses, making resolution important but not critical for sales.
🎶 Music/Sound Library
Vimeo: Vimeo has a sound library with stock sounds and music to choose from.
YouTube: YouTube Creator Studio offers creators a music and sound library.
Though not known for being a hotspot for creative social media video content the same way YouTube is commonly used, Vimeo content creators still have access to a music and sound library with stock files from which to choose. These are all licensed by the platform and won't violate copyright laws.
YouTube also offers content creators a music and sound library as part of the YouTube Creator Studio. In addition, the YouTube Shorts music library is much larger for mainstream songs, making it a larger asset to content creators looking to expand their audience and increase media performance. It even gives an advantage when comparing short form platforms like YouTube Shorts vs TikTok. The new YouTube Shorts monetization policy will be partially used to fund music rights.
It has been noted by content creators comparing Vimeo vs YouTube that Vimeo is slower to catch on to music that may violate copyright laws. YouTube often catches this kind of content immediately, taking action to remove that element of your media (video, audio, music, etc). Content creators should always ensure they have the proper rights to use any sounds, clips, or music as part of their media before doing so.
🔐 Video Privacy Options
Vimeo: Wide variety of privacy options, including password-protected videos.
YouTube: Only 3 options: Public, Private, and Unlisted.
When it comes to video privacy options, there's no competition between Vimeo vs YouTube. Vimeo is the distinct winner here, offering creators a full list of privacy options including fully public, shared only to people you follow, shared via link, or password protected. The last in this list is particularly useful for those considering Vimeo vs YouTube for business, as this lets you protect video assets for client viewing only.
YouTube offers only three options for privacy settings at this time: Public, Private, and Unlisted. Creators have the choice to have their media available to everyone, kept to only themselves, or able to be shared via a link.
📅 In-App Scheduling Tools
Vimeo: Video scheduling is available only for Vimeo OTT, Vimeo's over-the-top platform for building a digital library and providing content on demand.
YouTube: Creators can schedule video publication time.
The ability to schedule media ahead of time is important to content creators streamlining their process. While content creators need to be nimble to stay on the latest trends, more evergreen content is often planned and scheduled in advance to maintain a certain cadence to their video releases.
Comparing Vimeo vs YouTube, you'll find that Vimeo does not currently offer the ability for creators to schedule their video release in advance except via Vimeo OTT. Vimeo OTT is an enterprise-level product created by Vimeo for those looking to build their own media library to sell video-on-demand subscriptions.
YouTube content creators are able to schedule their media publication in advance in a few easy steps3. This scheduling takes place in YouTube Creator Studio, the accompanying portal meant to be a one-stop shop for all a content creator's needs. 
🤳🏼 Video Responses to Comments
Vimeo: Viewers may leave a video comment, but creators cannot respond to comments with a video.
YouTube: Creators can create YouTube Shorts to respond to video comments.
In the age of social media video platforms like TikTok, many content creators have become accustomed to making video responses to comments on their media. This allows them to directly engage with viewers while producing new content at the same time.
A comparison of YouTube vs Vimeo shows that YouTube wins here. Vimeo interestingly allows viewers to leave a link to a video response or record one directly on the app, which is then embedded in their comment. Creators, however, cannot respond with video. You can reply to another user's comment with a link to a public video but you can not record a video response in a reply to another user's comment4.
In the last quarter of 2022, YouTube announced it would be rolling out a feature allowing content creators to make Shorts in response to comments on their long form media5. There is an option to create short form content instead of simply replying to main channel comments with text. Initially only available on YouTube Shorts comments, this feature is a step forward in connecting the functionality between main channels and Shorts to give creators more options to publish content.
🗣️ In-App Voice Over Recording
Vimeo: Creators cannot record VO directly on the platform.
YouTube: Voice over recording is available for YouTube Shorts.
Content creators look to voice over for clearer storytelling and streamlining the editing process. A closer look at Vimeo vs YouTube shows that neither offers in-app voice over recording options for long form content at the time of this article's publishing. Creators will note that they can record voice over for YouTube Shorts directly on the app, giving YouTube a slight advantage.
To avoid these issues, many content creators have turned to third-party voice over apps like MixVoice, instead. Not only do these apps circumvent the issue caused by a lack of in-app voice over recording features but they also save time and money during the content production process.
📝 In-App Auto Captions
Vimeo: Creators can add and edit auto captions on the platform.
YouTube: Auto captions can be generated and edited on the platform.
A comparison of YouTube vs Vimeo shows that both offer auto captions to increase social media accessibility. These captions are not only able to be generated but edited more easily than on other platforms like TikTok or Instagram.
In addition to being able to generate auto captions and edit them, both Vimeo and YouTube allow you to create an SRT file and upload it to add and style captions exactly the way you want. Captions are very important elements and should be on every video accessibility checklist for content creators looking to maximize their media performance.
✍️ Video Descriptions
Vimeo: Maximum length for the title is 128 characters. Video descriptions can be up to 5000 characters.
YouTube: Title limited to 100 characters (~70 characters before becoming truncated). Video descriptions may be up to 5000 characters.
Video description character limits (and title character limits) for Vimeo vs Youtube are relatively similar. Both allow up to 5000 characters in the video description. Vimeo lets creators use up to 128 characters in the video title whereas YouTube limits video titles to 100 characters with titles being truncated beyond roughly 70 characters5. 
📖 Membership Options
Vimeo: Membership options range from free to $75/month for regular video hosting. Vimeo OTT price provided during a consultation.
YouTube: Free ad-supported accounts. YouTube Premium is available for $11.99⁠/⁠month or discounted annual billing.
Membership options for Vimeo vs YouTube show how creators on Vimeo tend to be focused more on niche audiences or businesses. At the time of publishing this article, Vimeo offers a Basic membership for free to all users with tiered paid membership options ranging up to Premium for $75/month7. These membership options come with different levels of weekly or lifetime upload limits based on your selection, as well as other features like advanced analytics and live-streaming capabilities.
As always, YouTube is an open platform available to anyone to view ad-supported media. It also has a membership option called YouTube Premium for those wanting to watch videos or listen to YouTube Music ad-free. At the time of publishing, YouTube Premium is priced at $11.99⁠/⁠month with options for discounts on annual billing as well as family and student plans8. 
💻 Video Editing Tools
Vimeo: Native editing toolkit via Vimeo Create. Can also choose embedding options.
YouTube: Basic editing tools available on the platform. 
Posting video content means needing to edit it. Video editing on YouTube vs Vimeo shows both have relatively basic offerings, but Vimeo wins with additional features for editing long form video.
Creators using the YouTube platform are able to trim their videos to where they want, as well as add things like captions, cards, or an end screen to link to other videos, channels, playlists, and more via YouTube Studio. Those using YouTube Shorts will find more features similar to TikTok and Instagram Reels editing tools including filters, text to speech features, and more.
Vimeo has its own tool called Vimeo Create which serves as a native platform editing toolkit that gives creators access to add text to videos, music, sounds, watermarks, and more. While not as extensive as some features on short form platforms like TikTok, Vimeo Create provides more options than YouTube for long form video editing on the platform itself.
Monetizing YouTube vs Vimeo Content
Monetizing content is vitally important to content creators looking to generate revenue for their work. A comparison of Vimeo vs YouTube shows that the latter offers more ways to make money from content, even though Vimeo is more often used as a source to sell videos versus monetizing from advertising.
Vimeo has long stood by its commitment to not have ads play before, during, or after regular videos on its platform. This makes monetizing content more difficult this way than on YouTube. Monetizing Vimeo content on the regular video hosting platform most often takes the form of businesses and creators selling videos as individual products. This is made simpler to do by password-protecting content and providing that upon a sale.
There is another method for enterprise-level businesses to make money on Vimeo via Vimeo OTT. This product lets businesses and creators form their own media library and sell subscriptions to it. Media can be monetized this way using three methods: Subscription Video On Demand (SVOD), Transaction Video On Demand (TVOD), and Advertising Video On Demand (AVOD)9.
YouTube monetization is popular for creators who have joined the YouTube Partner Program (YPP)10. Content creators can earn revenue through their content in a variety of ways, including ads, shopping, channel memberships, and YouTube Shorts. The YouTube Shorts monetization practices require being part of the YPP but follow their own method at the time this article was published using shared ad revenue payout.
Vimeo vs YouTube for Business
Using Vimeo vs YouTube for business is popular among brands and content creators looking for where to sell digital products. YouTube has a larger base but isn't as targeted or niche. Instead, you are more likely to have a wider audience that is less focused than you'll find on Vimeo.
While Vimeo may have a smaller active user base, they're also typically more engaged and receptive to your content. These are often professionals looking for content relevant to their own business interests, which could increase the likelihood of a sale versus a channel membership on YouTube. Vimeo also offers Vimeo OTT, whose Enterprise level membership allows businesses to create their own OTT app for content, showcasing their media library any way they want, including monetizing via three different types of video-on-demand.
Vimeo vs YouTube for Social Media Content Creators
Comparing YouTube vs Vimeo for social media content creators, the advantage goes to YouTube. With a much larger base of active monthly users worldwide, content creators can reach a larger number of viewers more easily than on Vimeo. In addition to the larger user base, YouTube is owned by Google, and videos are indexed, increasing searchability and discoverability via YouTube SEO.
While Vimeo may tend to be higher-quality video content, it doesn't have the organic reach that YouTube provides. Most often, content creators publishing on Vimeo are also using other platforms to drive traffic to it for a more niche viewer group. In fact, creators have to manually opt into SEO settings in order to have their Vimeo media indexed for better organic searchability.
Creator Resources for YouTube
For content creators looking for ideas, inspiration, and guidance to produce new media on YouTube or Vimeo, check out these guides:
The battle between Vimeo vs YouTube shows that both video platforms offer ways for content creators to reach their audience. Determine where your target audience is most active and how you plan to use your video content to determine which platform is best for you.
Additional Sources and References
https://vimeo.com/about

https://blog.youtube/press/

https://support.google.com/youtube/answer/1270709

https://www.socialmediaexaminer.com/how-to-reply-to-youtube-comments-with-shorts/

https://help.vimeo.com/hc/en-us/articles/12425999105041-About-comments

https://support.google.com/youtube/answer/12948449

https://vimeo.com/upgrade

https://www.youtube.com/premium

https://vimeo.com/ott

https://support.google.com/youtube/answer/72851