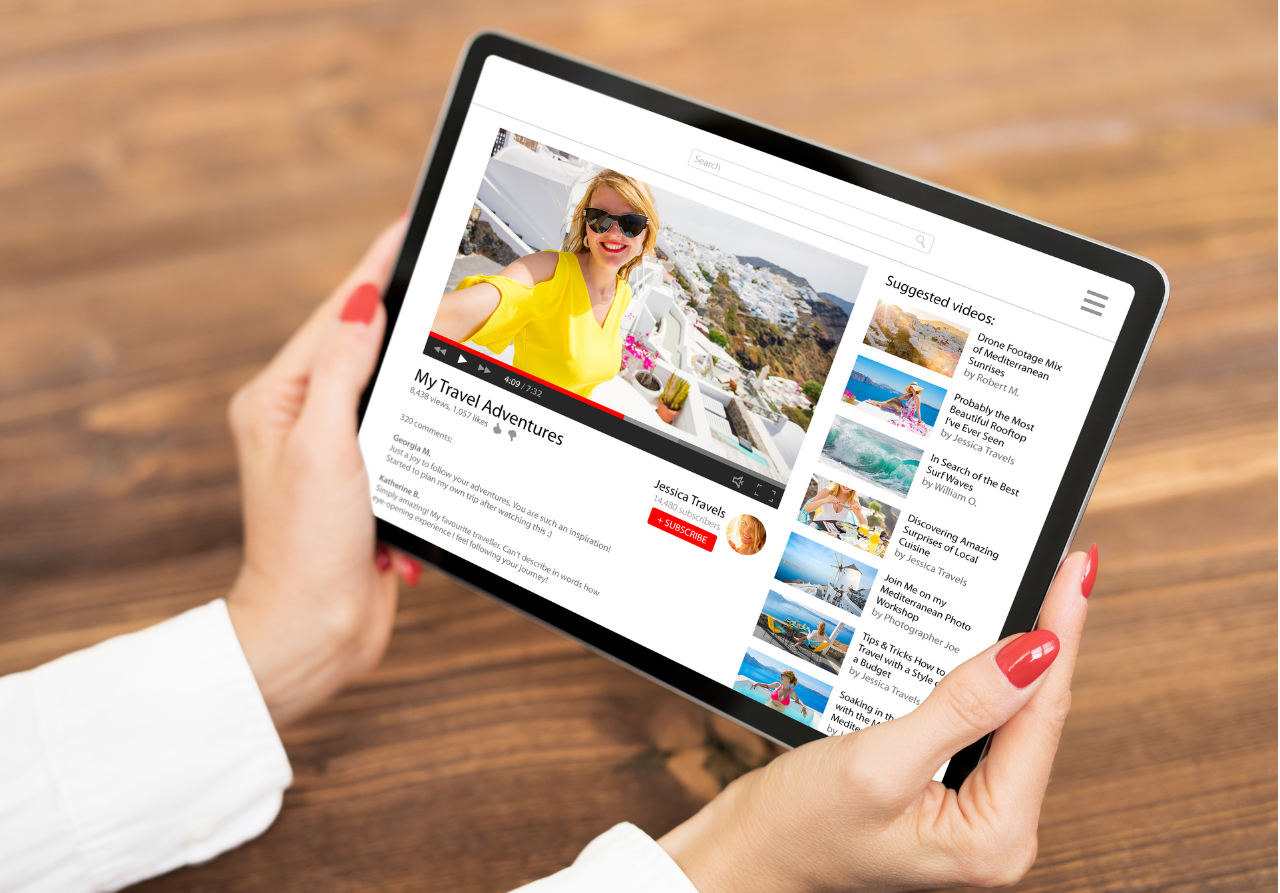 How to Promote YouTube Videos
Creating and publishing content isn't enough to be seen. Content creators need to know how to promote a YouTube video in order to boost overall performance and drive viewers to their channel. Without it, you're relying on the hope to go viral to increase engagement and views, which is a poor plan. The most successful content creators know how to promote YouTube videos to get them seen by the largest number of people.
Today, we're showing you how to promote YouTube videos to improve visibility and boost your metrics. From improving organic visibility, searchability, and accessibility to cross-promoting across various platforms, learn what it takes to get your content seen and how to become a content creator who succeeds.
Importance of YouTube Video Promotion
YouTube is widely considered the world's second-largest search engine1. Owned by Google, YouTube videos are indexed for organic searchability and the platform has over 2 billion monthly active users2. This means there are vast numbers of people who could convert into viewers, growing your channel and increasing your revenue from YouTube monetization.
In the battle for long form content, creators and businesses often find themselves comparing YouTube vs Vimeo. For short form content, the platform battle is on between YouTube Shorts vs TikTok and YouTube Shorts vs Instagram Reels. All of these platforms have a large number of active users, so knowing how to promote your YouTube content the right way is the best way to cut through the noise and be seen.
YouTube video promotion leads to potential opportunities like:
Better channel visibility

More subscribers

Increased revenue from monetization

Brand partnerships
The wide berth of payoff for learning how to promote YouTube videos makes it clear promotion should be a critical part of your YouTube strategy. Build on your viewership and continue its momentum with deliberate actions that increase your success.
How to Promote YouTube Videos to Build Your Channel
There are numerous methods for how to promote your YouTube video. Content creators should follow a combination of tips for promoting YouTube videos via organic methods like video descriptions as well as with calls to action to subscribe, social sharing, utilizing YouTube Shorts and even using other platforms to drive traffic to their channel.
Follow these tips and techniques for how to promote YouTube videos to boost your media performance:
Create videos around trending topics

Write compelling video titles

Optimize your videos for visibility and searchability

Know what your audience wants

Engage with the YouTube community

Use Playlists to group your content by theme

Customize YouTube video thumbnails

Make use of built-in promotional tools on the platform

Create media with video accessibility in mind

Make direct callouts for viewers to subscribe

Push viewers toward long form channel content with YouTube Shorts

Promote YouTube videos across multiple platforms

Repurpose video into smaller promotional assets
1. Create Videos Around Trending Topics
One of the best methods for how to promote YouTube videos is to make sure you're posting relevant content that people are watching at that moment. Creating videos around trending topics keeps your media at the forefront of viewer attention and prevents it from appearing out of touch, stale, or boring because they've already watched another creator's content on the same topic.
There are content creator tools within YouTube to help you monitor trending topics to see which are relevant for your audience, so make use of them and boost YouTube video performance.
2. Write Compelling Video Titles
Video titles can make or break your efforts when it comes to how to promote YouTube videos. You have very little time to grab viewer attention before they scroll to the next video, so write something that clearly identifies what your video is about and draws them in.
As important as video titles are for how to promote a YouTube video, don't resort to clickbait titles just to get views. Not only will you quickly lose viewers without them watching the entire video and lowering average viewing duration, but you risk gaining a bad reputation or losing followers who don't want to feel misled or like you've wasted their time.
3. Optimize YouTube Videos for Searchability and Visibility
Statistics show that YouTube videos show up in roughly 70% of the top 100 Google search results for any given search query3. This means the competition is steep to gain viewers, but the opportunity is also ripe for the picking.
Follow important steps to increase YouTube SEO such as:
Include keywords in your titles and descriptions

Foster engagement with calls to action in your video

Use categories to teach YouTube who to share your media with

Add captions to videos and transcriptions to video descriptions

Tag your videos properly to give YouTube better context for the content
Optimizing your media should be part of your production routine. It's vital to promote YouTube videos with an organic search perspective in mind and not just sharing across social media platforms. The traction you will build over time will result in the current and long-term success of your video.
4. Know What Your Audience Wants
There's no other way to say it: people only watch what they care about. As a social media content creator, you need to know what your audience wants and cement your status as a thought leader and influencer in that niche with relevant, engaging content that appeals to them.
Creating content without a common throughline will result in your brand being all over the place and viewers not being sure what to expect from video to video. Publishing targeted media with a consistent voice, perspective, and style helps with how to promote YouTube videos because you'll know what your audience wants to see.
5. Engage With the YouTube Community
This method for how to promote YouTube videos actually comes in two parts.
Engage with Viewers: First, it means engaging with your viewers on the platform via the comment section. YouTube Shorts has also added the function to respond to comments with a new video, similar to other short form video favorites like TikTok and Instagram Reels. Whether on your main channel or YouTube Shorts, engaging with viewer comments in a positive way gives you a direct connection to your audience. It makes them more excited to continue viewing your content, more likely to share it with their circles, and presents the opportunity to learn more about what they want to see in the future. 
Creators with access to the Community tab can also interact with viewers outside of videos using features like polls, text-based posts, and images4.
Engage with Other Creators: Engaging with the YouTube community also means interacting with other content creators. Depending on your location this may be virtually or by attending content creator meetups to mingle with others, learn more, and share your knowledge. You want your content to perform best in your niche, but collaborating can have a positive impact on your overall views, subscribers, and engagement when done strategically. 
6. Use Playlists to Group Content By Theme
The ability to curate playlists lets you promote content surrounding a central theme or topic that your viewers will be interested in. It's a simple method for how to promote YouTube videos that viewers might digest in one sitting. Instead of presenting a single video at a time, Playlists let you suggest more of your content, which not only helps with how to promote a YouTube video that's new but also keeps building views to previous content.
7. Customize YouTube Thumbnails
Something as simple as YouTube thumbnails have a major impact on your overall views. Choosing the right thumbnail for your media captures viewer attention and makes them more likely to click on it. The automatic selection the platform chooses may be blurry or show a less-interesting part of your video. The YouTube platform offers a built-in tool for customizing your video thumbnail, so take advantage of choosing the thumbnail you want and put yourself ahead of those who don't.
8. Use Built-In Promotional Tools
In addition to customizing thumbnails, there are a number of built-in tools on the platform for how to promote YouTube videos. The three most important ones are:
Cards

Watermarks

YouTube end screens
Of these, the most popular is YouTube end screens, which allow you to feature and promote other videos from your channel. This is ideal for promoting YouTube videos because it beats out the algorithm suggesting its own selection of related content which may not be from your channel. YouTube end screens also give you a space to add a subscribe button, making it easier to build up subscribers and boost future views on your media.
9. Create Media With Video Accessibility In Mind
Recent statistics from the U.S. Census Bureau show an estimated 40.8 million Americans (equating to 12.7%) live with a disability5. This means that social media accessibility is more important now than ever to create equal exposure and promote YouTube videos to as many people as possible. Without video accessibility, you're missing out on a huge percentage of viewers who may have otherwise engaged with your media.
Look back through content to see what can be adjusted for better accessibility and create new media with a video accessibility checklist in mind. Elements like adding captions to YouTube Shorts and long form videos, providing transcriptions, and styling captions for better legibility are all important content creation steps that will yield a positive result while making your channel more inclusive.
10. Direct Callouts for Viewers to Subscribe
Another method for how to promote YouTube Videos is within the content itself. At the end of your video, include a direct call to action for viewers to subscribe so they'll see future content. Not only does this boost subscribers who may share your media with others in their circles, but it continues to build on viewer numbers for each subsequent video you post as more people are notified and may watch it.
11. Use YouTube Shorts to Push Traffic to Main Channel
One of the most popular uses of YouTube Shorts for many creators up to this point has been to push more traffic toward main channel content. Creators have created trailers and teasers for long form content as well as broken longer videos down into smaller, digestible YouTube Shorts for individual viewing.
Recent updates to YouTube Shorts monetization may present changes to these methods in the future, but creators should still be looking at how to utilize YouTube Shorts to build up their viewers for both short and long form media.
12. Cross-Promote YouTube Videos on Other Platforms
As you learn how to promote your YouTube video, you're not limited to the YouTube platform. An effective way to build your audience and promote YouTube videos is to cross-promote them across other media like TikTok videos and Instagram Reels. In order to stay within the YouTube monetization rules, these cross-promotional videos should be different from the original. Directing viewers from other social platforms to your YouTube content is effective for building subscribers and boosting overall media performance.
Additionally, many creators have preferred the YouTube monetization policy6 as it allows them to bring in more revenue versus other platforms like TikTok, which notably takes 50% of the monetary value of TikTok gifts sent by viewers.
13. Repurpose Video Into Smaller Promotional Assets
When creating a plan on how to promote a YouTube video you create, there's an advantage to editing short, digestible chunks of video similar to a YouTube Shorts promotional strategy to share via your email list or other social platforms like TikTok or Instagram.
Editing 30-second to 1-minute bite-size assets that capture attention-grabbing parts of your video, or tease what the viewer can expect, make it easier to share elsewhere and drive traffic to full-length media on your main channel.
Repurposing your video into multiple assets also allows you to edit it in the format that performs best on the platform you're promoting it on such as keeping it short with fast cuts for TikTok.
Learning how to promote YouTube videos is essential to being a successful content creator. Promoting YouTube videos boost performance metrics such as views, engagement, and subscribers to continue building on your momentum. Make sure you're following the best practices for how to promote a YouTube video each time you publish new content and make your media stand out from the crowd.
Additional References and Resources
https://www.researchgate.net/publication/355479653_Is_YouTube_a_Search_Engine_or_a_Social_Network_Analyzing_Evaluative_Inconsistencies 

https://blog.youtube/press/

https://www.bigcommerce.com/blog/ecommerce-product-videos/

https://support.google.com/youtube/answer/9409631

https://www.census.gov/newsroom/facts-for-features/2022/disabilities-act.html

https://support.google.com/youtube/answer/1311392