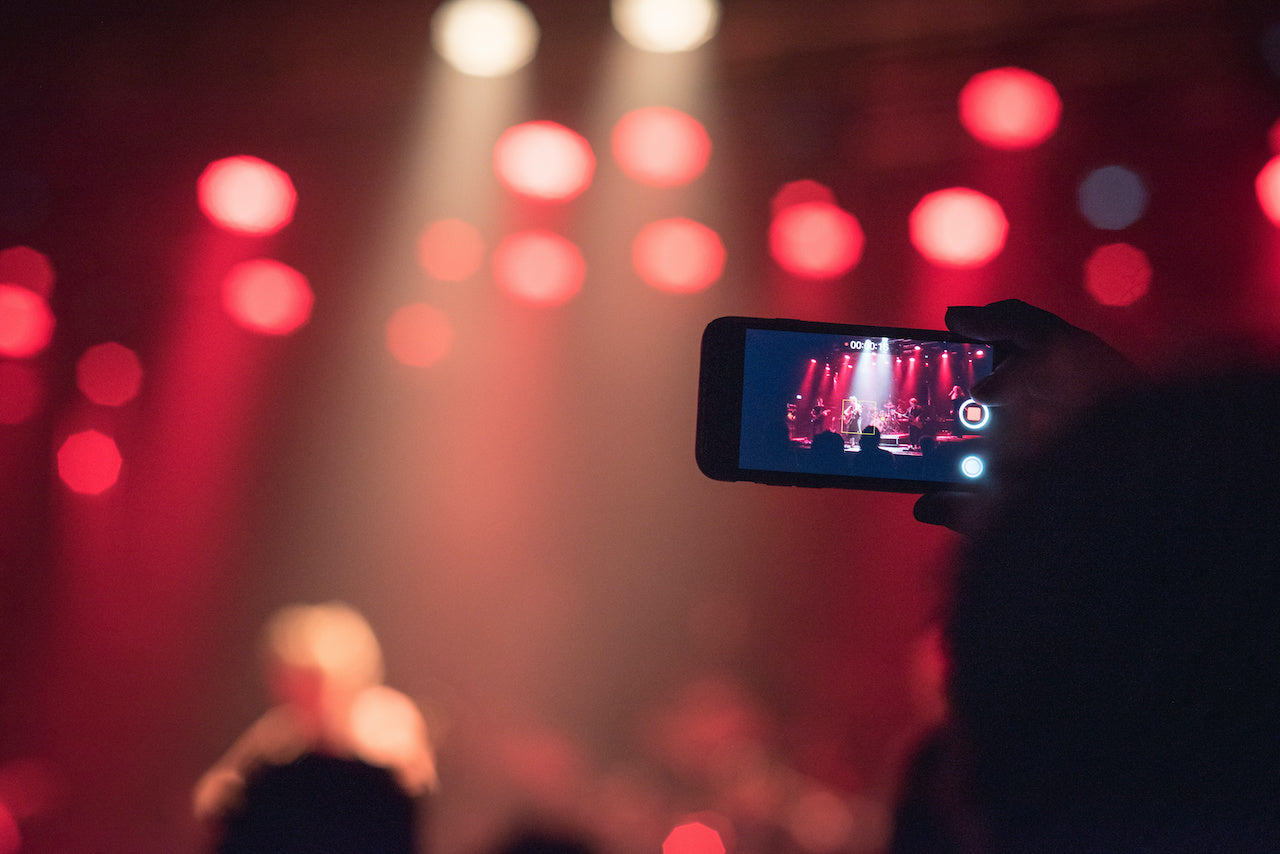 How to Record Audio on iPhone That's High Quality
Advancements in today's smartphones make recording video and audio on the go easy. Many creators use their iPhones to record video and audio for social media channels, vlogs, and other forms of media. The key is knowing how to record high quality audio on iPhone that's usable for your content and captures viewer attention for the right reasons.
Today, learn how to record audio on iPhone for high quality and tips for getting the best audio recording for your media. Elevate your content production and be confident you're getting high quality audio whenever you record.
Importance of High Quality Audio for Video
The competitive landscape for online content makes it more important than ever for creators to ensure they're producing top-quality media at all times, even with smartphones. Whether you're following voice over tips for social media videos, starting a podcast, or creating another form of content, knowing how to record high quality audio on iPhone is imperative for maximizing overall media performance.
Media with poor audio risks being overlooked by viewers and having a negative impact on your reputation as a content creator. This can cost revenue potential, brand partnership opportunities, and more.
How to Record Audio on iPhone Devices for High Quality
Content creators have numerous tools at their disposal, including one that's likely attached to them at all times: their mobile phone. Whether you're recording on the go or integrating your smartphone into your studio setup, knowing how to record audio on iPhone that's high quality is vital to successful media.
To start recording premium-quality sound on your iPhone, consider these tips and techniques:
Make sure your iPhone mic is clear

Position your iPhone mic properly for audio recording

Use an external microphone

Mute notifications or use airplane mode

Create the right audio recording environment

Adjust audio settings on your iPhone

Choose the right iPhone audio recording app

Enhance audio recorded via voice memos

Use a windscreen for your iPhone mic
1. Make Sure Your iPhone Microphone Is Clear
You might be shocked to learn your iPhone probably has more than one mic on it. In fact, newer-model iPhones have several microphones to collect audio. The most important one to focus on as a content creator learning how to record audio on iPhone that's high quality is the mic located at the bottom.
In order to record the clearest audio, make sure this mic is clear and free from anything blocking the mesh. This could be a buildup of dirt or the mic being blocked by part of your equipment setup. This is one of the easiest and most obvious methods for how to record audio on an iPhone to ensure high quality and no sound obstruction.
2. Position Your iPhone Microphone Properly
If you're using the built-in microphone, positioning your device the best way is an important part of how to record audio on iPhone without sacrificing quality.
First, make sure your phone isn't too close or too far from the source of sound you're capturing. For recording people speaking, it should be placed close enough to pick up the audio recording clearly without them having to shout while being far enough away to not pick up every breath they take.
You'll also need to point the iPhone mic at the subject speaking or source of sound. The primary microphones on iPhone devices pick up sound the best when pointed directly at the source without obstruction. This is especially important to consider for how to record audio on an iPhone when you have more than one subject speaking or multiple sources of audio being recorded in a single take.
3. Use an External Microphone
One of the best ways for how to record audio on iPhone that's high quality is by using an external microphone. Instead of relying on the built-in mic option, there are numerous external microphones that work with your mobile device to capture audio better than the default equipment can.
Whether you're looking for the best microphone for YouTube videos, vlogging, podcasting, or recording any other audio using an iPhone, there are available models at every price point. External microphones also give creators the options for wireless or wired mics, depending on what they need to record their audio. Options like a wireless lavalier microphone make it easier to record crystal clear audio from speakers while filming video from further away than you'd need if you were using the built-in iPhone mic.
4. Mute Notifications or Use Airplane Mode
Nothing ruins an audio recording faster than hearing notification sounds or haptics. The sounds interrupt the viewing experience and turn your media from professional to amateur in an instant.
One of the first steps toward how to record high quality audio on iPhone is ensuring you mute notifications while capturing audio. With notifications muted, you'll still be able to see notifications as they come in, which is useful if you still need to look for incoming information while recording.
To completely eliminate the risk of notifications interrupting your audio, it's best to turn your phone to airplane mode unless you require internet access.
5. Create the Right Recording Environment
Another part of how to record audio on an iPhone without quality loss is creating the right recording environment. Excessive background noise or ambient sound can produce low quality audio recordings that have to be re-recorded.
Creating the right recording environment may include things like:
Unplugging potential disruptors like air conditioners, refrigerators, etc.

Soundproofing recording booths

Finding a quiet space for shooting outdoors

Keeping the recording area from being "too live"
6. Adjust Audio Settings on Your iPhone
Creators learning how to record audio on an iPhone that's high quality should take a look at their audio settings. The iPhone offers a variety of audio settings depending on how you're recording audio.
For example, under the Settings menu, select Voice Memos then choose Audio Quality and change your settings to Lossless in order to avoid file compression. This is ideal for creators recording voice over for video using voice memos and then layering that file over top of their video.
Depending on any external microphone you're using, you may also be able to adjust settings for the mic to maximize clarity while recording.
7. Choose the Right iPhone Recording App
Creators aren't limited to only recording audio on their iPhones as part of a video recording or voice memo. There are numerous recording apps to help with how to record audio on iPhone that's high quality.
For example, the Dolby On app automatically applies noise reduction, volume maximization, and more. It's a popular app for recording or live streaming without having to worry about audio quality.
You might also consider a text to speech app like MixVoice to apply the perfect voice over recording to your media using its AI voice generator and cut out many of the factors that impact how to record audio on iPhone without sacrificing quality. Third-party voice over apps like this are powerful tools that help you streamline production, saving time and reducing costs.
Creator Tip: Voice over is one of the most common techniques used in video content. Learn how to voice over a video like a pro after this.
8. Enhance Audio Recording On Voice Memo
If you're using a voice memo app for optimizing how to record audio in iPhone, you might be able to improve your recording even further in post. You should have already adjusted your voice memo audio settings to Lossless but there are additional options that may be available to you to clarify any sound distortions or interruptions.
From your voice memo app, select a recording then click Options (which will look like three sliders). From here, select Enhance Recording to reduce background noise and echo. It may not be immediately evident on every recording and has been known to occasionally make the recording sound a little constricted if there wasn't enough to enhance, but you can toggle the setting on and off as you see fit to give you options for choosing the best audio.
9. Use a Windscreen or Pop Filter
Whether you're relying on the built-in microphone or using an external mic option, consider getting a windscreen for improving how to record audio on iPhone outside. A windscreen protects the microphone diaphragm from gusts of air, which may manifest as popping sounds and ruin your audio.
For how to record high quality audio on iPhone indoors, a pop filter will prevent capturing sharp sounds like breaths or pops when recording someone speaking.
Today's iPhone models have advanced well beyond their predecessors and provide content creators a powerful tool for recording audio and video. Whether in a home studio or the go, knowing how to record high quality audio on iPhone is a must for every level content creator. Follow the tips and techniques outlined above for how to record audio on iPhone that's high quality and ensure you're producing professional-level media at all times.