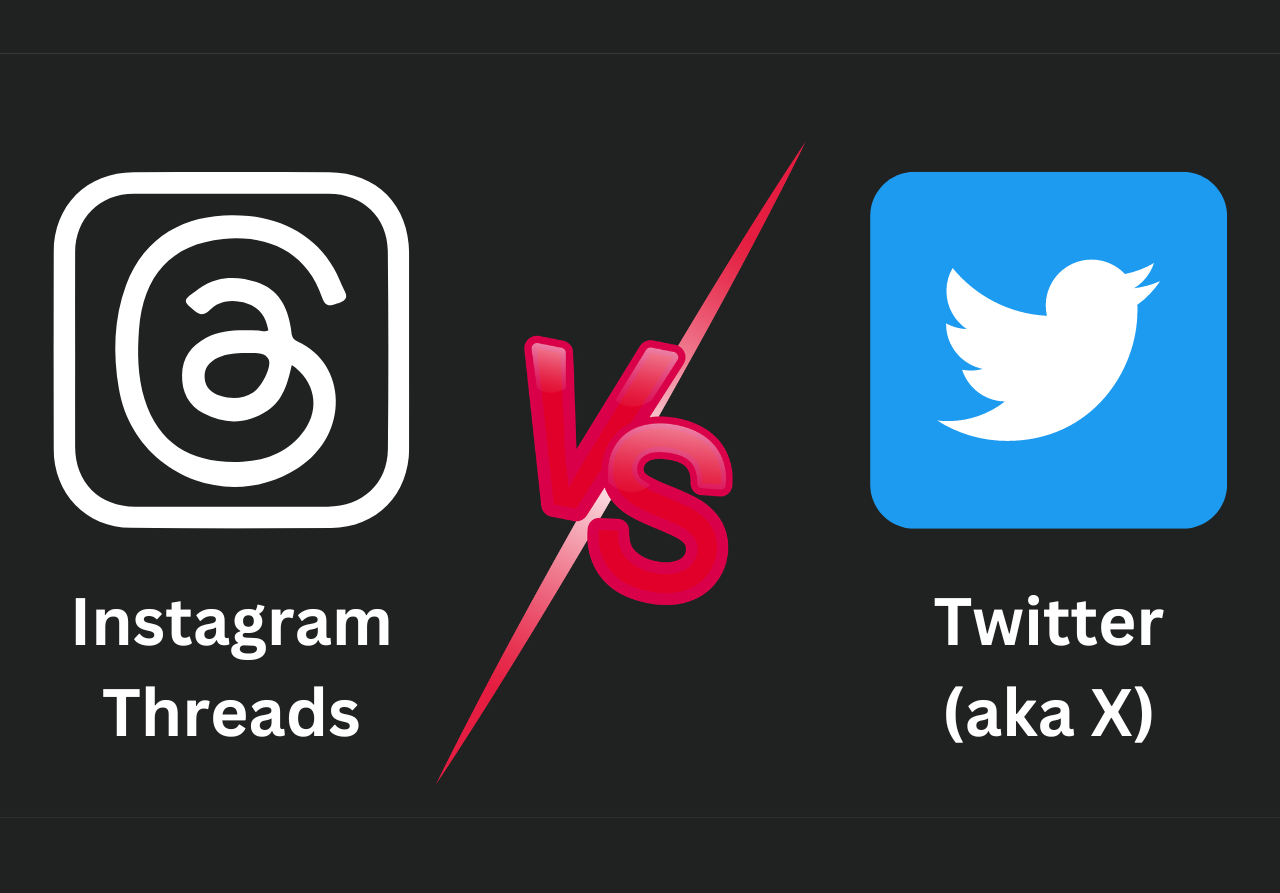 Platform Battles: Instagram Threads vs Twitter (aka X)
The newest rivalry in the social media space is Instagram Threads vs Twitter (aka X). The recent struggles for Twitter since its acquisition by Elon Musk have put it in a vulnerable position for Instagram Threads to become a threat to its continued status. With TikTok jumping on board with text-only posts, it's a highly competitive, and currently volatile, race to be the top platform for sharing text-based posts and other media.
In this platform battle, we're comparing Instagram Threads vs Twitter to show how each is being used, as well as similarities and differences between the platforms to help you determine which is right for your content. 
Using Instagram Threads vs Twitter (aka X)
As with other social media platforms, comparing the Instagram Threads app vs Twitter uncovers how the two are being used differently by creators and brands to optimize media reach and performance. Since the major changes in Twitter ownership and because of the newness of the Threads app, each is in a state of evolution that has users redefining how they publish content.
Instagram Threads Uses
Optimized for storytelling across multiple posts threaded together

Daily active users down to just 23.6 million from 100 million signups

Most active users are larger content creators and brands at this time
Launched on July 5, 2023, the Instagram Threads app is a brand new platform taking on Twitter in the race to dominate text-based posts (sometimes referred to as 'text-first posts') and other media sharing. Associated with Instagram, a major competitor for vertical short form content as seen comparing Instagram Reels vs TikTok, this is the latest Meta-backed social media venture aimed at gaining market share of content creators in the wake of Twitter's uncertain path forward.
While the new social media platform hit 100 million users very quickly with little marketing by Meta, recent announcements have shown that daily active users fell to just 23.6 million by July 141. Whether this is due to slow adoption by consistent users, the moderately limited functionality of Instagram Threads compared to other platforms, or another cause, Meta will need to continue to enhance the platform in order to continue its momentum.
The Threads app is optimized for sharing content invoking more storytelling elements, with a focus on allowing viewers to ingest a string of posts together more easily and follow the flow of content. At this time, users will find it's been mostly adapted by content creators with larger followings and brands looking to cement their place as early adopters.
More Info: What is Instagram Threads app? Learn more about the new text-based social media app from Meta after this.
Twitter Uses
Long-reigning champion of text-based social media

Facing a string of challenges since changing ownership, rebranding as X

Has a huge foundation of users engaged in many different niches

More well-developed over 16 years versus the newly-launched Instagram Threads app

Recently rolled out subscriptions for creators to monetize their content.
Launched in July 2006, Twitter has been the long-standing champion of text-based social media platforms (also referred to as "text-first social media platforms") for creators, brands, and users in all types of niches. From its position in political discourse to tech initiatives, finance, collectors, and more, Twitter has over 368 million monthly active users worldwide2.
Due to its longer history, Twitter has developed many features over the years based on customer feedback and need. It's improved the user experience, but still falls short for many content creators looking for easy methods of storytelling because of its previous smaller character limits (which have now increased for both free users and Twitter Blue subscribers) and focus as a text-based platform versus other types of media like video content.
The recent change in ownership has also left Twitter in a tough position, facing an uncertain future as it experiences social pushback resulting in users deleting accounts, a lack of advertisers, and is pushing to find a new identity, rebranding as X.
Comparing Instagram Threads vs Twitter (X): Features
The changes being made at Twitter (aka X) and the newness of the Instagram Threads app mean many content creators are confused as to how these two platforms compare even though they're direct competitors.
Even though Meta has adopted for Threads many of the design elements that make Twitter user-friendly, a comparison of Threads vs Twitter shows how each platform is quite different. 
Similarities
User interface

Post sharing

Feed organization

Post translations
📲 User Interface
Instagram Threads: Creators can post, share, and react. Posts are created in a typical text box. Relies on engagement versus hashtags or other methods to increase reach.
Twitter: Uses a text box as the basis of posts. Relies more on hashtags for increased reach.
Comparing Instagram Threads vs Twitter shows that both platforms are primarily built around sharing posts via a text box. This is because both platforms are text-based, rather than focused on other types of content like videos the way Instagram Reels, TiktTok, or YouTube Shorts are.
Even the methods around tagging friends and sharing posts are similar between the Threads app vs Twitter, making it less of a challenge for users to adapt to using one platform over the other. 
🤳🏼 Sharing Content
Instagram Threads: Users can share posts on Threads and as a link via text or other platforms
Twitter: Users can retweet, quote tweet, or share posts as a link
Content creators rely on viewers sharing their media whether it be text-based storytelling, video content, or something else. Sharing content allows further reach and improves overall media performance with higher engagement rates.
Both Instagram Threads and Twitter allow users to easily share content both on the platform itself as well as outside the social media platform.
For Twitter, users can retweet or quote tweet in order to share content. While rebranding as X, the company is experimenting with changing them from being called tweets to simply being known as posts3, leaving these to likely be known as reposts. Users may also share tweets or posts as a link, shared as text messages or on other platforms.
Instagram Threads is designed very similarly to Twitter, offering users the ability to share content in almost identical ways. As part of future plans to position the Instagram Threads app as cross-compatible with ActivityPub, the open social networking protocol established by the World Wide Web Consortium (W3C), there is a particular focus on being able to share content outside the Threads app itself.
✍️ Feed Organization
Instagram Threads: Recent update now allows for chronological feed organization.
Twitter: Allows better customization of which content users see in their feed.
Until recently, the Threads app feed was very basic in its functionality, only allowing users to see posts from users they follow or trending posts. A recent update rolled out chronological feed organization options that make it easier to follow storytelling posts across the app.
Twitter (X) has maintained a relatively high level of feed customization options by comparison. Users are able to see only tweets or posts by those they follow as well as relax this filter to allow related posts the algorithm thinks may pertain to your interests.
🗣️ Post Translations
Instagram Threads: Users may now translate posts into their preferred language.
Twitter: Offers the ability to translate tweets for wider reach.
Comparing Twitter vs Instagram Threads, content creators want to make sure their media will have the widest reach possible. A big factor in this for social media platforms is auto-translation.
Twitter has offered the Translate Tweet function for users to be able to understand and engage with posts beyond their native language4. The translated tweet or post is shown above the original.
On its launch, the Threads app did not have any translation features, despite Instagram and Facebook both offering it. An app update at the end of July 2023 rolled out a translation feature that will help creators expand the reach of their media.
Differences
Platform availability

Creating and deleting your account

Content character limits

Supported media

Direct messaging

Search capabilities

Social media ads
📱 App Availability
Instagram Threads: Only available as a mobile app at this time (iOS and Android)
Twitter: Available as a mobile app (iOS and Android) as well as a desktop site
One of the biggest differences between Instagram Threads vs Twitter is each platform's availability.
At this time, the Threads app is only available as a mobile app for iOS and Android. There is no desktop version of the platform users can visit. This may change in the future. Additionally, third-party scheduling apps are not currently compatible with the Threads app, which may present a content production flow challenge to creators looking to publish a steady stream of content and schedule media in advance.
Twitter (now X) is available as a mobile app for iOS and Android, as well as a desktop site. It is compatible with most third-party scheduling apps, giving it a current advantage for those using popular content creator tools for scheduling like Later or Hootsuite.
🛑 Creating and Deleting Your Account
Instagram Threads: Created using Instagram credentials. Users cannot delete their Instagram Threads account unless their IG account is deleted as well.
Twitter: Accounts are able to be created and deactivated via Twitter without impacting another platform.
A major confusion for Instagram Threads app users is how to create an account and its impact on their ability to delete or deactivate it in the future. This is because the Threads app requires association with your Instagram account to get started. Verification badges and username transfer to your Threads profile, and your Instagram followers are invited to follow you on the Threads app. (Not verified? Learn more about how to get verified on Instagram after this.)
The confusion comes in how this affects the user's ability to delete or deactivate their Threads app account. Will deleting Threads also delete your Instagram? The answer is that users on the Threads app may deactivate their profile, hiding their profile and posts, without impacting their Instagram account5. To delete Threads app data entirely, however, it will affect Instagram. Additionally, deactivating your Instagram account will remove your Threads app profile.
Twitter, or X, users are able to create and deactivate an account without it impacting another platform.
🔚 Content Character Limits
Instagram Threads: Posts are limited to 500 characters.
Twitter: Tweets or posts limited to 280 characters. Twitter Blue subscribers may now post up to 25,000 characters.
The Instagram Threads app allows users to use up to 500 characters per post. This is longer than the standard tweet and permits creators to guide viewers through storytelling.
Twitter began with a character limit of 140 characters per tweet, which was then expanded to 280 characters. While this is a breath of fresh air for content creators looking to tell their stories more effectively, Twitter Blue subscribers can now take that even further with longer tweets of up to 25,000 characters. It's important to note that only the first 280 characters are shown before truncation.
📹 Supported Media
Instagram Threads: Can share images, videos, GIFs, and links in Threads app posts6. Users can add up to ten items per post. GIFs must be saved to the camera roll to be added.
Twitter: Users are able to share images, videos, GIFs, and links in tweets or posts. Limited to four items per post
At first glance, a comparison of the Instagram Threads app vs Twitter (aka X) looks to support the same type of media. The differences lie in how many types of media are allowed per post and how they're added.
On the Threads app, creators can post GIFs, but only if they're saved to the user's camera roll. Users are able to post up to 10 types of media per post, which can make storytelling more effective using image carousels or other content types.
Twitter makes it easier to upload different types of media, but only allows users to add 4 items per tweet or post.
💬 Direct Messaging Capabilities
Instagram Threads: No direct messaging feature at the time of this article's publication.
Twitter: Users can directly message one another.
One of the early complaints against the Instagram Threads app is its lack of a direct message feature. Initially, this was due to Meta wanting to keep users from having cluttered apps for messaging, given it already has those via Instagram and Facebook Messenger. Due to its popularity, however, this is a feature that is likely to be added in the future.
Twitter has direct messaging capabilities between users.
🔎 Searchability
Instagram Threads: Limited functionality for finding Threads app accounts.
Twitter: Users can search trending topics, keywords, people, hashtags, people, and usernames.
As an established social media platform deeply rooted in conversations between all types of users in every conceivable niche, Twitter has advanced search capabilities giving access to trending topics, keywords, people, hashtags, people, and usernames.
At this time, the Instagram Threads app search feature is limited to finding accounts.
📢 Social Media Ads
Instagram Threads: The Threads app is ad-free at the time of this article's publication.
Twitter: Advertising revenue has fallen, but sponsored content is prevalent.
At the time of this article's publication, the Instagram Threads app does not have ads. This is certain to change over time, as Meta offers one of the most robust ad targeting systems of any social media platform. For now, users are able to solely view organic posts from other users, creators, and brands.
Twitter has seen its advertising revenue fall since its change of ownership, but sponsored content is still prevalent and highly visible across the platform.
The comparison between Instagram Threads and Twitter shows that each platform has a fundamentally similar approach to storytelling, implemented in different ways. Will the Instagram Threads app turn out to be the "Twitter-killer" it was touted upon launch? Time will tell, but it's got a long way to go to catch up to the functionality of Twitter (X) at this time.
Additional References and Resources
https://www.businesstoday.in/technology/news/story/metas-threads-usage-drops-by-half-after-seeing-initial-surge-mark-zuckerberg-blames-391888-2023-07-30

https://www.statista.com/statistics/303681/twitter-users-worldwide/

https://www.theverge.com/2023/7/29/23812780/tweet-change-name-post-x

https://help.twitter.com/en/using-twitter/translate-tweets

https://help.instagram.com/179980294969821

https://about.fb.com/news/2023/07/introducing-threads-new-app-text-sharing/